Wales International Harp Festival V
Artistic Director: Elinor Bennett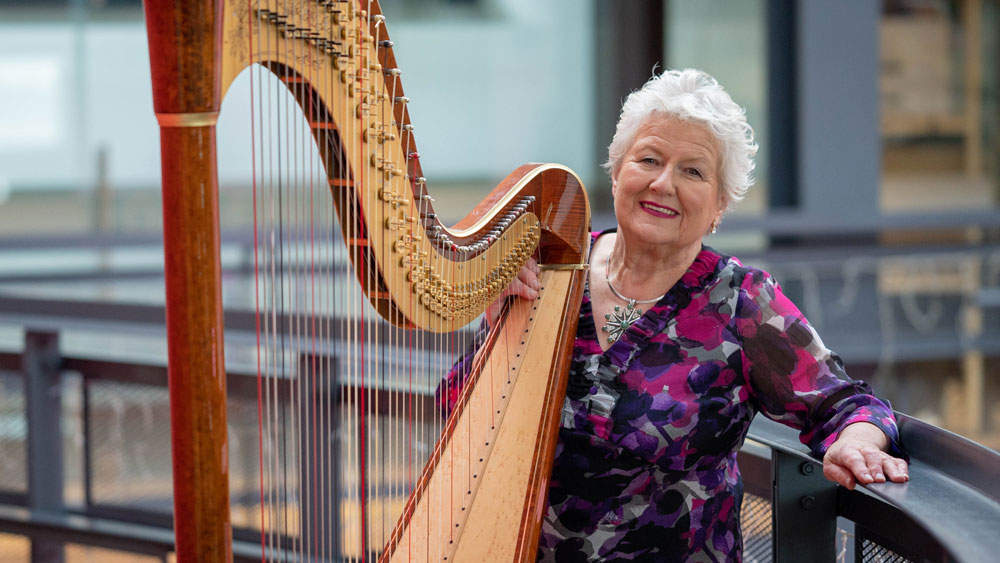 A message from Elinor Bennett
Artistic Director
November 2022
The Fifth Wales International Harp Festival, which will be held in Galeri Caernarfon from 5th – 11th April 2023, will be a golden opportunity for people to come together to be inspired by the music of the harp from many cultures. I look forward enormously to hearing performances in concerts, recitals and competitions and sharing the traditions of the harp around the world along with harpists from Wales, other Celtic countries, Colombia and Gambia.
Music can transcend geographical borders and military conflicts and can strengthen friendships with people in other lands. There will be a warm welcome awaiting all visitors to Caernarfon next Easter when the thrilling sounds of dozens of harps will resonate through the spaces of Galeri Arts Centre, after the silence and nervousness of the Covid pandemic.
As this will be my last Festival as Artistic Director, I have chosen music that has given me great pleasure in the past and reflects the path of my career from the folk music of my early days to the classics of the harp repertoire and new works.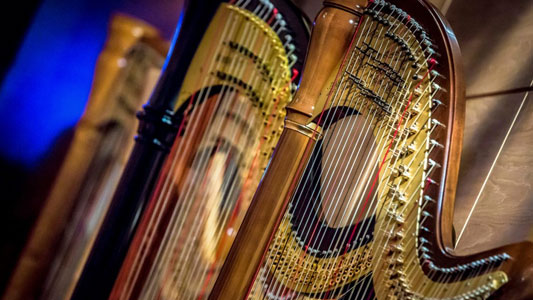 Chief Musician
Open to harpists born on or after September 1st, 1987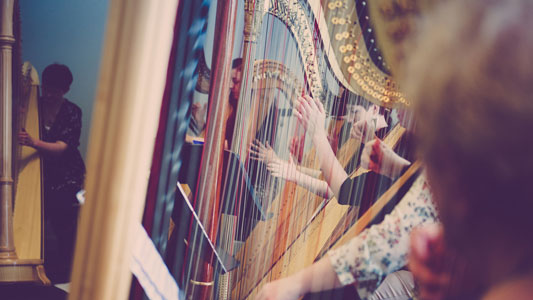 Youth
Open to harpists born on or after September 1st, 2003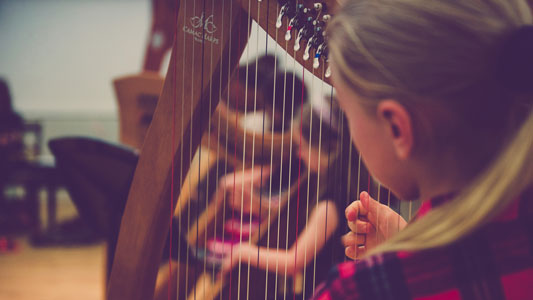 Junior
Open to harpists born on or after September 1st, 2009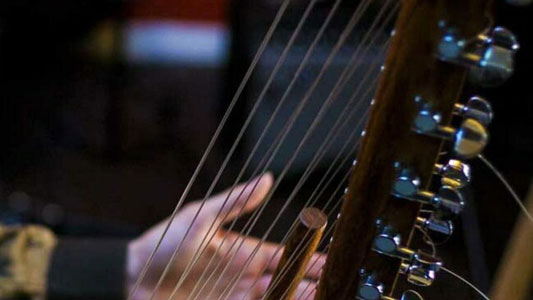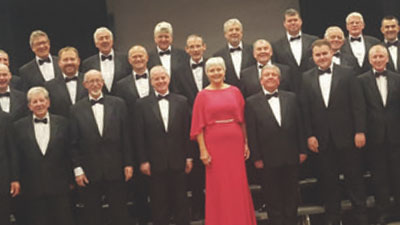 Opening Concert
5 April 2023, 7:30pm
Elinor Bennett & Meinir Heulyn (Harps), Côr Telyn Gogledd Cymru (conductor Tudur Eames), Côr Godre'r Aran (conductor Eirian Owen).
Premier of "Llechi" by Math Roberts & Ifor ap Glyn performed by  Canolfan Gerdd William Mathias alumni.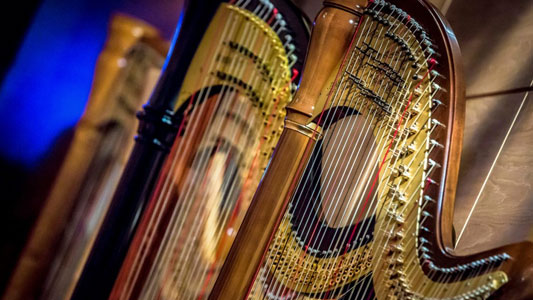 Elinor Bennett  (Harp)
Menna Elfyn (Poet)
Glesni Rhys Jones (Soprano) 
Elain Rhys Jones (Harp)
6 April 2023, 2:00pm
Programme will include " Hymn for a Welshman – in Memoriam R S Thomas" by Menna Elfyn and Pwyll ap Sion
Welsh folk songs arranged by Grace Williams for voice and harp.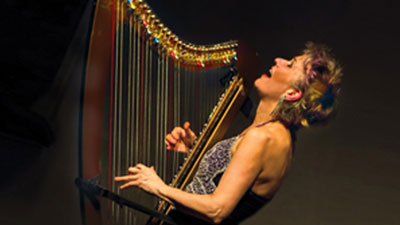 JAZZ – Deborah Henson-Conant (USA)
6 April 2023, 7:30pm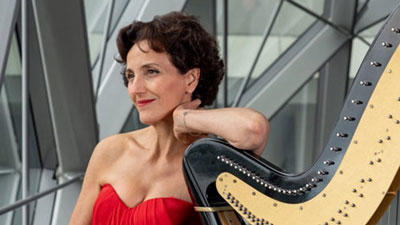 Recital – Isabelle Moretti (France)
7 April 2023, 7:30pm
Harp Classics from France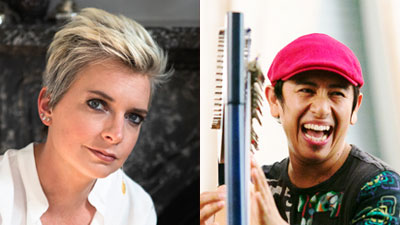 Concert- Catrin Finch (Cymru) & Edmar Castaneda (Colombia)
8 April 2023, 7:30pm
Recital – Sioned Williams

9 April 2023, 5:00pm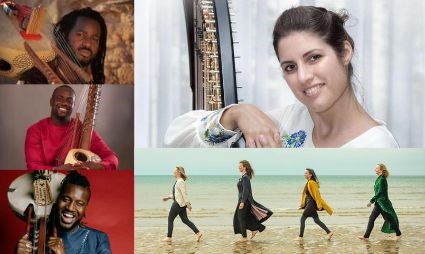 World Music Concert
Pedair (Cymru)
Veronika Lemishenko (Ukraine)
The Griot Brothers
10 April 2023, 7:30pm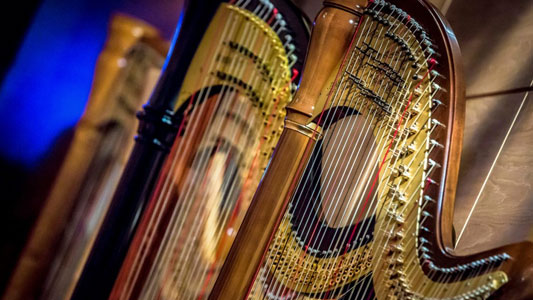 Chief Musician Concert
11 April 2023, 7:30pm
The final round of the Chief Musician Competition, where three young harpists shall perform solo works and Saint-Saëns duet for violin and harp.
All Events
See all the festival events.
Harpists of the World
This series of recorded conversations were conceived as a means of reaching out to distinguished harpists in countries all over the world to find out about their life and work and to show the  different types of harps that exist in other cultures. Over recent years, the means of connecting meaningfully over the internet by zoom or other platforms has proved to be a real boon. I have been extremely privileged, on behalf of the fifth Wales International Harp Festival,  to talk to harpists from many backgrounds and cultures to find out more about subjects that are of common interest to harpists wherever they may be. Many of the musicians play very different styles and kinds of harps – from early renaissance and Baroque harps to the Chinese Konghou, Latin American harps, the African Kora and of course the modern pedal concert harp.
As an innovation, the Festival has produced a series of online conversations with highly respected harpists who have made extraordinary contributions to the harp internationally but who are not able to be with us in person.
Sponsor a String Scholarship
Would you like to help the Festival by donating a sum of your choice towards the three Scholarships?